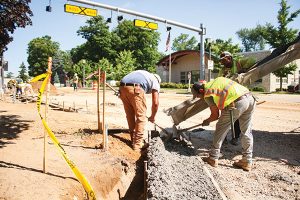 In just two short months, crews have completely renovated the utility lines, curb, gutter, sidewalk, and road on the west side of Cedar Street between Aurelius and Holt Roads. As the community watches the construction progress unfold, anticipation for the new vision of Cedar Street is building.
The Realize Cedar project aims to improve sidewalks, street parking, and update infrastructure to create a safe, livable, and walkable community for all age groups, including millennials, families, and seniors.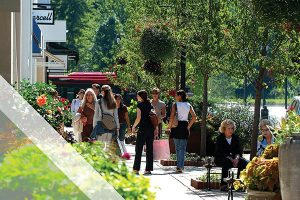 "We are very satisfied with the headway we've made so far on the Realize Cedar project," said Lia Michaels, project manager with HRC, the engineering firm orchestrating the project. "It's great to see the progress that the contractors make each week and watch the new vision for downtown Holt come together. I think the community will be thrilled with the outcome once the project is completed."
Construction crews have kept the project moving along. Work on the west side of Cedar Street is expected to be finished around early August. Construction crews have also started work on Cedar Street between Willoughby and Aurelius Roads. This section is expected to finish around mid-August.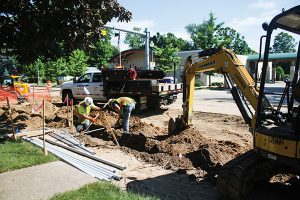 Crews will close down the Holt/Cedar intersection for construction from August 6 to approximately the middle of August, renovate the east side of Cedar Street from the end of the summer to the middle of October, and finish out by reconstructing the Aurelius/Cedar intersection from October to November.
"We want to thank the community for their patience and understanding while our contractors work on revitalizing Cedar Street," Michaels said.
The entire project is slated to be finished by the end of the year.
You can find more information, including construction updates, photos, and detour information on realizecedar.com or by visiting the Realize Cedar Facebook and Instagram pages.