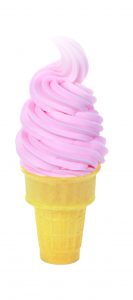 EDITOR'S NOTE – April 6, 2018: Due to some delays in the reconstruction of the Quality Dairy building in Holt, the store will now reopen later in the summer. The team is working hard to build the best ever QD for the community and wants to ensure that all of the details are just right before they reopen their doors. Thank you for your patience and understanding!
---
In just a matter of weeks, Holt residents will be able to enjoy Quality Dairy ice cream, donuts, chocolate milk, and other delicious treats again. Their Holt location is set to reopen in mid-May.
"We're hoping to develop this site into more of the QD of the future," said Ken Martin, the president and co-owner of Quality Dairy.
Late last year, an electrical fire at the Holt location forced the store to temporarily shut its doors. Around the same time, Quality Dairy leadership was looking to make updates to the family-owned regional chain. They asked for community suggestions on how to improve their Holt location.
The community responded through social media, and Quality Dairy listened. Holt's Quality Dairy will serve as the chain's new "concept store," a combination of the most popular customer requests and a sneak-peek into the Quality Dairies of the future.
"What I picture is the corner creamery," Martin said. "We're hoping to basically create a really good family environment."
It will include more prepared foods, a small kitchen area, and updated technology. It will also feature a walk-up window with soft serve and hand dipped ice cream, milkshakes, and an ice cream topping bar. During the summer months, customers will be able to enjoy their ice cream outside in a relaxing and attractive sitting area.
Martin envisions his corner creamery being a popular stop for folks traveling on the growing network of bike lanes and walking trails in Holt. He also hopes to catch the eyes of drivers and pedestrians enjoying the new Realize Cedar project that will be implemented this year. Martin sees the synergy that Quality Dairy will have with the new downtown feel created by the project.
The company has drastically evolved since Martin's father first opened in Lansing in 1936. From a neighborhood dairy, to a 30-store strong convenience store chain, Martin said Quality Dairy has flourished over the years by really listening to their customers.
"When you have a direct relationship with the customer, you treat them as well as you can," he said. "That's our plan for the future: Continue to stay close to the customer and possibly stay ahead of what they're looking for."
Quality Dairy is on 2233 S. Cedar St. in Holt, 517.371.8918, qualitydairy.com.