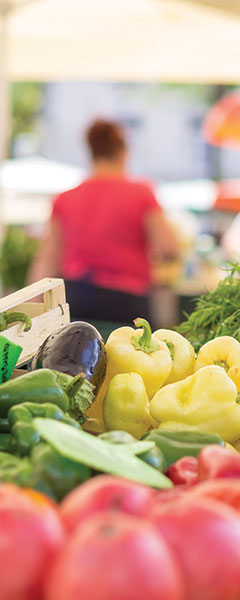 The Holt Farmers Market prides itself on being open rain, snow, or shine — all year round. But the market can now boast another season of success: construction. Weekly markets and monthly Food Frenzy events are still flourishing during construction for the Realize Cedar project.
"We are still open for business, just as we always are," said Chuck Grinnell, director of the Holt Farmers' Market. "We're anxious for the project to be done, but we're also looking forward to how beautiful everything is going to be when it is done."
Grinnell tracked the success of market vendors and compared their numbers to last summer, showing that the construction project has had no negative impact on the more than 35 vendors who faithfully attend the market to sell their goods.
In its 10th year, the Holt Farmers' Market has flourished among area markets. Market vendors sell everything from fresh produce and meats, to jewelry and artisan crafts, to ready-to-order meals like empanadas and hot dogs. The market also hosts live music performances and craft demonstrations during the summer months.
"This has really become a community hub," Grinnell said. "You will see teachers, officials and neighbors come in, have their coffee in the morning, do their shopping, and visit with each other."
Grinnell says this tight-knit community atmosphere will only improve when the community finally sees the outcome of the Realize Cedar redevelopment project.
"This is something we've been needing for a long time," he said. "Once everyone sees the newness of everything when it's all ready, I think we're going to find a boom for all of the businesses."
Holt Farmers Market is at 2150 Cedar Street, Holt, 517.268.0024, holtfarmersmarket.org.