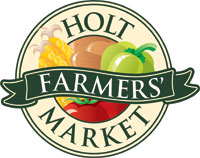 "We're an established market," says Holt Farmers Market manager Chuck Grinnell, "yet there's always something new."
At eight years old, the Holt Farmers Market has earned its standing among the area's preeminent markets. But Chuck is not about to let it rest on its laurels.
This summer, in addition to established favorites, "There are a bunch of new vendors," he says. "We're scheduling and managing 47 vendors this summer."
Offerings include produce, baked goods, ready-to-eat foods – even Michigan fruit ice pops! You'll also find artisans, crafters and family entertainment. There's live music every Saturday, a kids' magic show once a month, and a story hour twice a month.
This fall, of course, will bring a wealth of seasonal foods – and no doubt something else new! Chuck encourages you to follow Delhi Farmers Market on Facebook, where you'll find a current roster of vendors and all the latest updates.
Holt Farmers Market is at 2150 Cedar Street, Holt, 517.268.0024, holtfarmersmarket.org.