In just over a year, Bruce Kring and his business partners have gone from a fun "what-if" idea to launching their very own restaurant.
Gravity Smokehouse & BBQ, which has been operating as a food truck traveling around central Michigan for the past five months, will become Holt's newest BBQ restaurant this winter. "It wasn't originally part of the plan," Kring said. "But the opportunity presented itself and we said, 'why not?'"
Kring and his partner, James Stine, tossed around the idea of starting a food truck as a fun alternative to their 9-5 jobs. They started the Gravity Smokehouse & BBQ food truck in June and originally decided to keep their reach small. But customers kept coming.
The BBQ joint features brisket, chicken, pork, turkey ribs and any variation of those you can think of. For carb-lovers and vegetarians, they serve specialty mac and cheese that strikes the right balance of creaminess and flavor sophistication.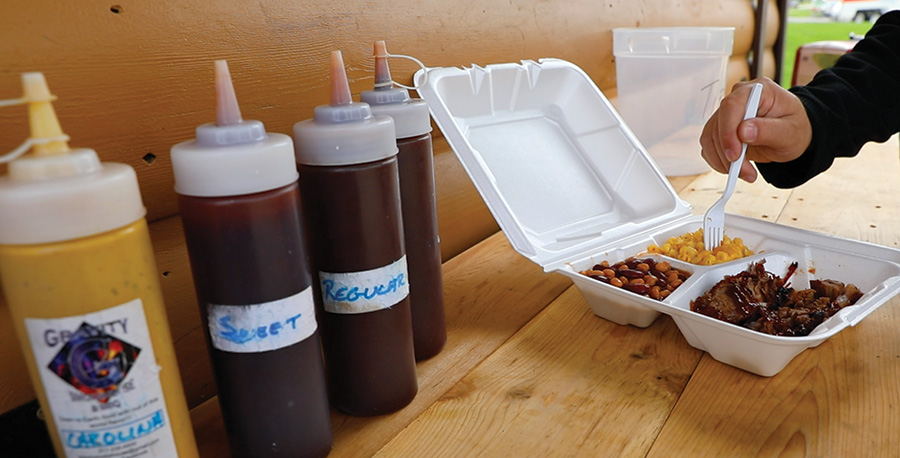 Stine left his full-time job to start running the food truck full time. Then last spring, the team found out about an opportunity to buy the former Hot N' Now building on Cedar Street. Shortly after closing on the property, Kring left his full-time job to start tackling the details of opening up a new restaurant.
The team is currently working on remodeling the facility, adding some extra indoor space and even including a drive-through. Depending on paperwork and construction progress, the team hopes to open up the restaurant in early 2019. In the spring, the team plans to add even more outdoor seating options, an attractive and convenient option for those who frequently travel the new trail on Cedar Street.
Stine and Kring both grew up in Holt and met while they were students at Holt Junior High. Both had strong ties to the restaurant industry growing up but went on to pursue other jobs into their adulthoods. But something kept pulling them back to their shared passion for food.
"That's how the gravity theme came back to be," Kring said. And if there's one thing Kring and his team have learned from their exponential growth over the past year, it's that you can't fight gravity. "Our business philosophy is 'just go for it.' Go for that one thing that's been pulling at you. Don't be afraid to do it."
The new Gravity Smokehouse & BBQ restaurant will be located at 1850 Cedar Street in Holt. Visit their Facebook page at facebook.com/gravitysmokehouse/.