Although it's consistently ranked among the 10 largest pizza franchises in the country, Hungry Howie's likes being part of small communities like Holt.
"We want to get to know you and be able to greet you by name when you come in," said Michelle Follman, corporate director of marketing. Adds Jenny Morgan, manager of the Holt store, "I love the customers. I love making them happy."
Hungry Howie's believes in giving back to the local community as well. "We do a lot of donating," Michelle said. "We especially like to support the schools."
Of course, it's the pizza that makes it all possible.
"We're the home of the 'Original Free Flavored Crust® Pizza'" Michelle said of Hungry Howie's signature offering. "There are eight flavors, and we introduce a new one every quarter. And there's no extra charge for our flavored crust."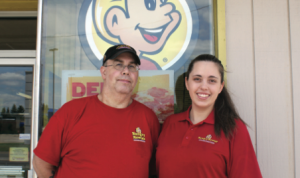 Manager Jenny adds that "good deals" are a big draw, too, with special offers available in the store and on the website. "People are always saying, 'this is a lot of food for the money,'" she said. The Holt store began opening for lunch about a year ago, and Michelle said the $5 lunch combos are a great option for busy people who want to grab a quick, tasty and reasonably priced lunch.
Customers can browse the menu on the website and order online or by phone, and delivery is available. You can also sign up to receive exclusive offers via email.
Hungry Howie's is at 2361 Cedar Street, 517.699.9000, www.hungryhowies.com.