If there's one thing we could all use right now, it's a little bit of zen. 
Restoration, peace and connection is exactly what Ellen Larson hopes people achieve when they attend a class at Ardha Moon Yoga. 
"Everyone is so busy and so overscheduled and they really forget about taking care of themselves," she said. "Take 60 minutes where you only think about yourself. No judgment. No expectations." 
Ellen knows what it's like to always be on the go. She manages a full-time career during the day, runs the yoga studio during nights and weekends, and is also a wife and mom. A competitive dancer growing up, she maintained an active lifestyle as an adult. But when a friend brought her to a yoga class, she experienced something brand new. 
"It was one of the first places where my brain turned off," she said. "I didn't worry about anything else. It was a gift I was giving to myself. 
Ellen quickly fell in love with yoga for its physical and mental benefits. She grew so proficient and so passionate, that she toyed around with the idea of opening her own studio. Ellen's husband gifted her a studio space to launch Ardha Moon Yoga in 2013 and Ellen tapped into her yoga network to find teachers who would fit the unique culture of her studio — passionate yogis who could accommodate evening and weekend class schedules. As a longtime Holt resident, she was excited to bring her passion project to the community she loves. 
"There's something personal about sharing something I love with the people who support me," she said. "That's my village. Being able to share it with my people makes it special for me too." 
Ellen was able to reopen the studio in September after closing down in the spring for the pandemic. But Ellen and her instructors have taken innovative approaches to promote a safe and healthy experience for their yogis. 
Temperatures are taken at the door and masks are required everywhere in the studio, except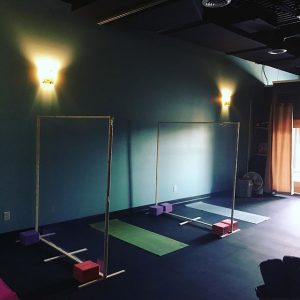 when participants are on their mats. Mats are staggered to promote social distancing, meaning no one is directly next to, in front of, or behind you. Participants are separated by 5' X 6' transparent screens and the floors are washed and sanitized between every class. 
Because Ardha Moon Yoga is a small studio, they have the ability to offer more customized class options. In addition to a variety of strength-focused and restorative styles of yoga, participants can choose a class time with an instructor and set up a class with five family members or friends.
"We know that sometimes it just comes down to wanting to know who is in the room with you," Ellen said. 
For Holt-area residents who are looking for a way to relieve stress and care for their mental and physical health, the instructors at Ardha Moon Yoga offer a wide variety of class times to fit your schedule.
"You don't know what you're missing," Ellen said. "Maybe you hate it. But what if you love it? What if you're avoiding something that you're going to love?" 
Ardha Moon Yoga is at 2450 Delhi Commerce Drive, Suite 1B, in Holt, 517.290.8773, ardhamoonyoga.com.