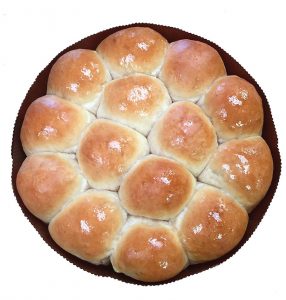 Neva Austin grew up baking with her mother, Aggie Mae, in the kitchen of the family's Eaton Rapids farm. Bread-making was both a comfort and a passion for Neva. And then it became more.
She started baking and selling her breads at the Eaton Rapids Farmers Market in 2009. As Aggie Mae's grew and expanded, Neva and her husband Mike opened a complete bakery/restaurant in Grand Ledge, serving soups, sandwiches and pastries. It also offers catering services.
In 2014, at the recommendation of their friend "Pat the Chicken Lady" from Otto's Chicken, Aggie Mae's began selling at the Holt Farmers Market. They offer a wide variety of delicious baked goods made from scratch with locally sourced ingredients. "We use a lot of butter and cream," says Neva. "All the good things in life."
They also love "supporting the little guy" by being part of the Holt Farmers Market.
"We love the atmosphere at the Holt Farmers Market," she says. "When you buy local you support the community directly. We hope to see you soon!"
Learn about Aggie Mae's and many more Holt Farmers Market vendors at holtfarmersmarket.org.